Categories:
Other Brands
In the upcoming collection, we will meet a lot of fresh Hermes handbags. One of them is the Cinhetic Clutch and there is more coming, so stay close to Bragmybag for the latest news.
But let's start with the Hermes Clic 12 Wallet. This is a new mini accessory for the Cruise 2018 Collection.
The Design
The Click 12 Wallet is a minimalistic and timeless wallet. It's small, compact and comparable to the famous French Wallets. There are two ways of carrying; either slip it inside your bag or carry it in the pocket of your jeans.
Hermes is all about the quality of the leather and the craftsmanship. This wallet is made from Mysore Goatskin and refined with silver hardware. The center is designed with a never-seen-before clasp. It's simple, squared and embellished with a little stud-opening in the center.
There are numerous colors available, including rose pourpre and blue electrique. If you want to check more shades, visit the nearest Hermes boutique and ask the SA.
The Interior
This is a small but neat wallet. The interior is made up with 6 card slots, a zipped pocket (for coins), patch pocket and also paper money pocket.
The Sizes And Prices
Measuring 12 x 11.5 (L x H) cm, priced at €3450 euro, £3170 GBP via Hermes boutiques.
More Colors And Images
comnum(0) tbcount(0) tbcount(114)
Categories:
Other Brands
Karolina Kurkova poses on location in Miami, Florida, for the December 6, 2017 cover of Alexa Magazine from The New York Post. Photographed by Eduardo Rezende, the Czech beauty poses in a colorful ensemble from Thom Browne with Rene Caovilla pumps. In the accompanying spread, Karolina models vibrant styles perfect for vacation season. Stylist Anahita Moussavian dresses the leggy blonde in designs from the likes of Balmain, Milly and Altuzarra.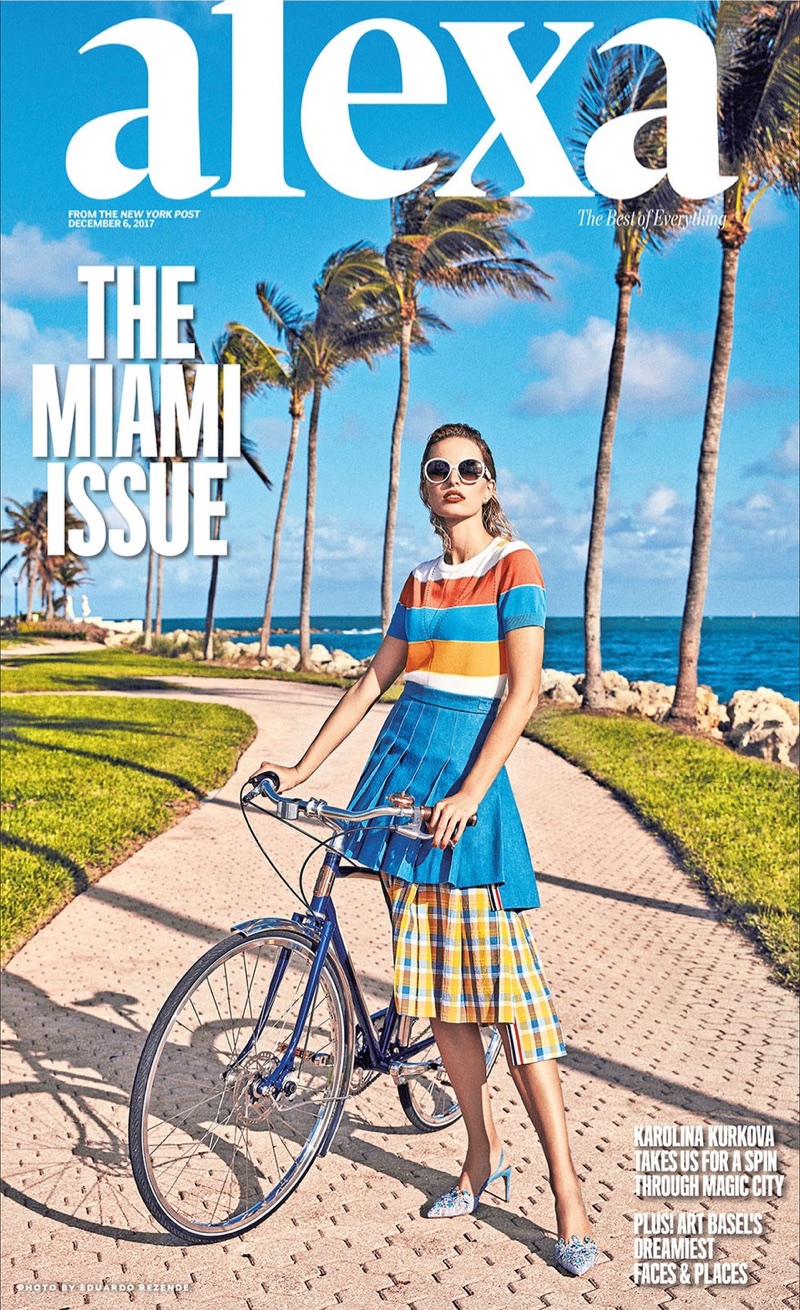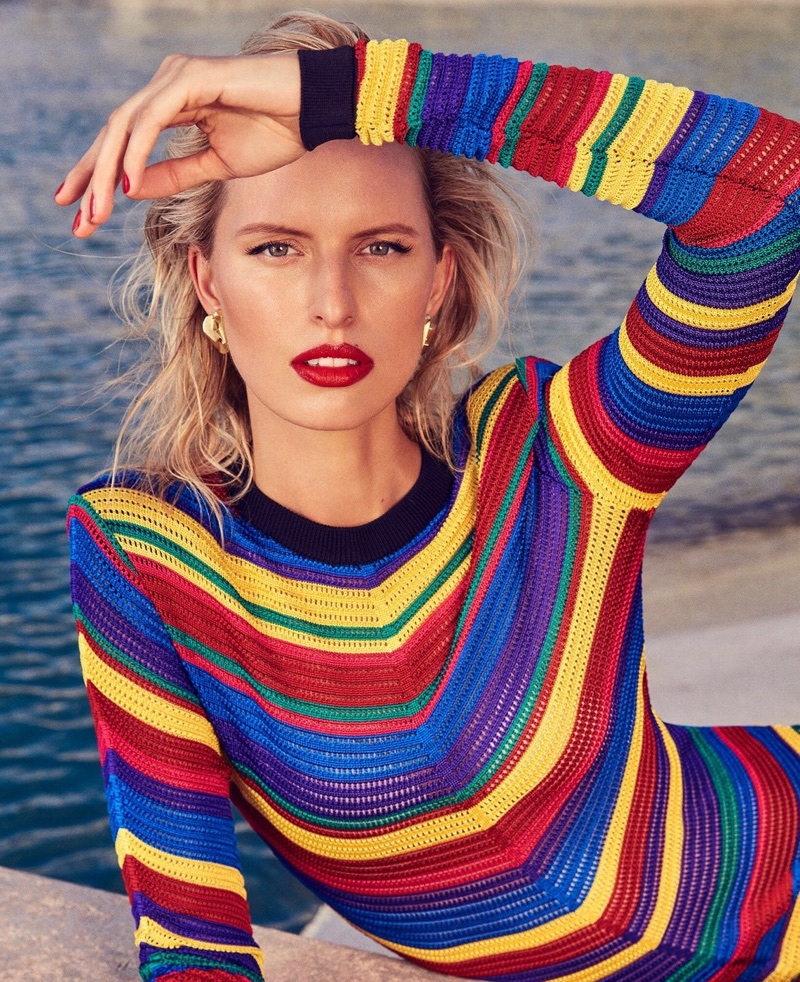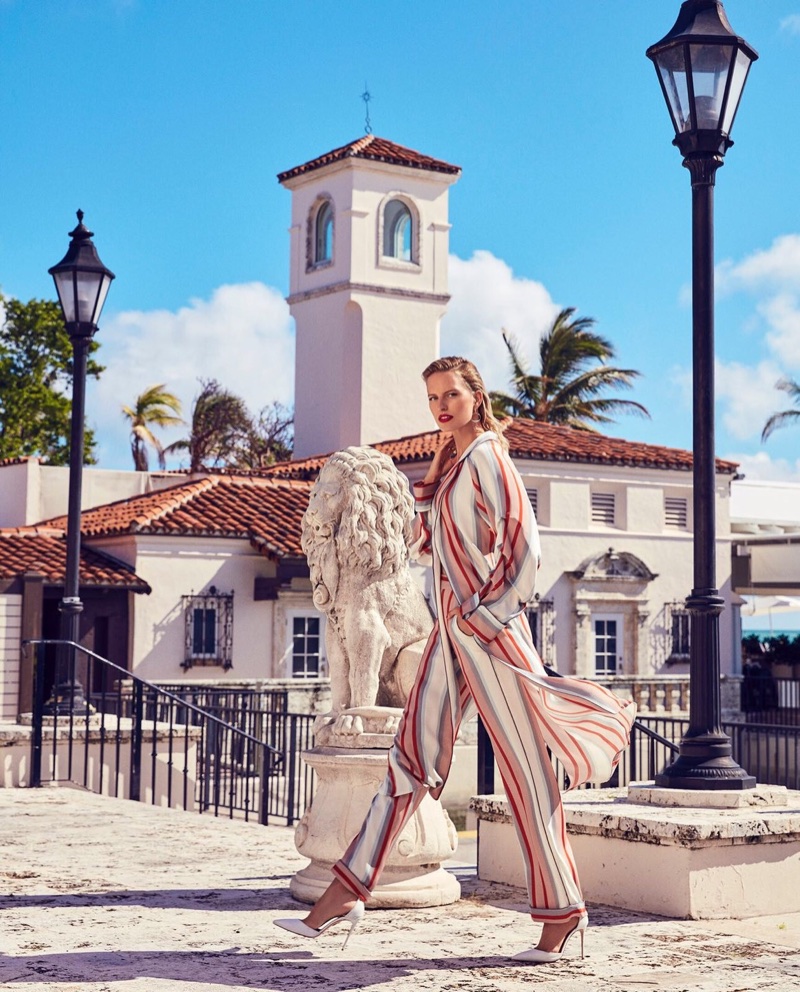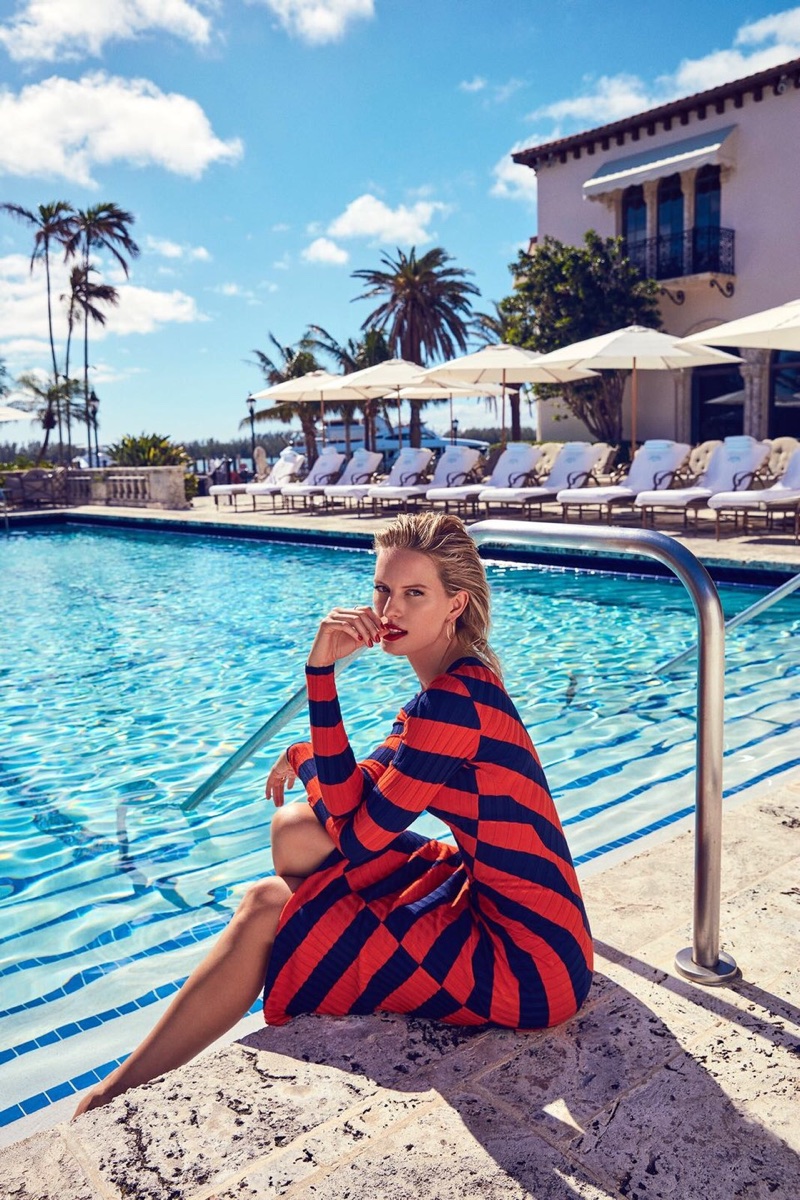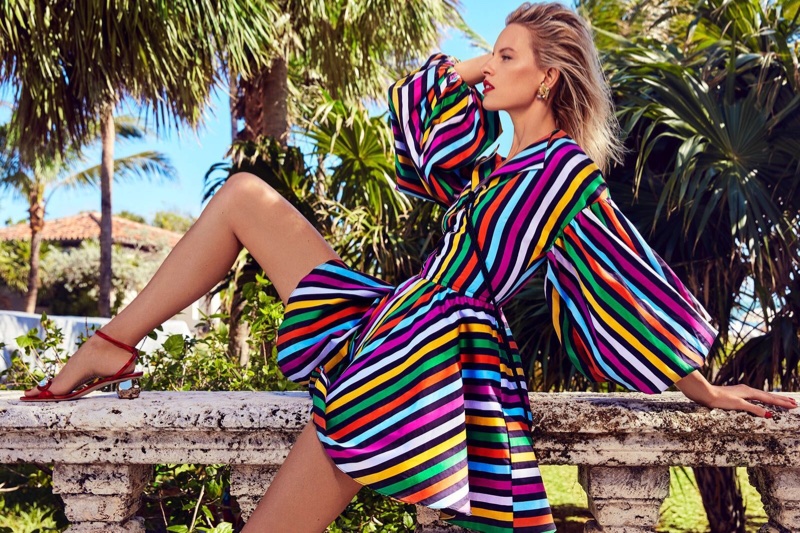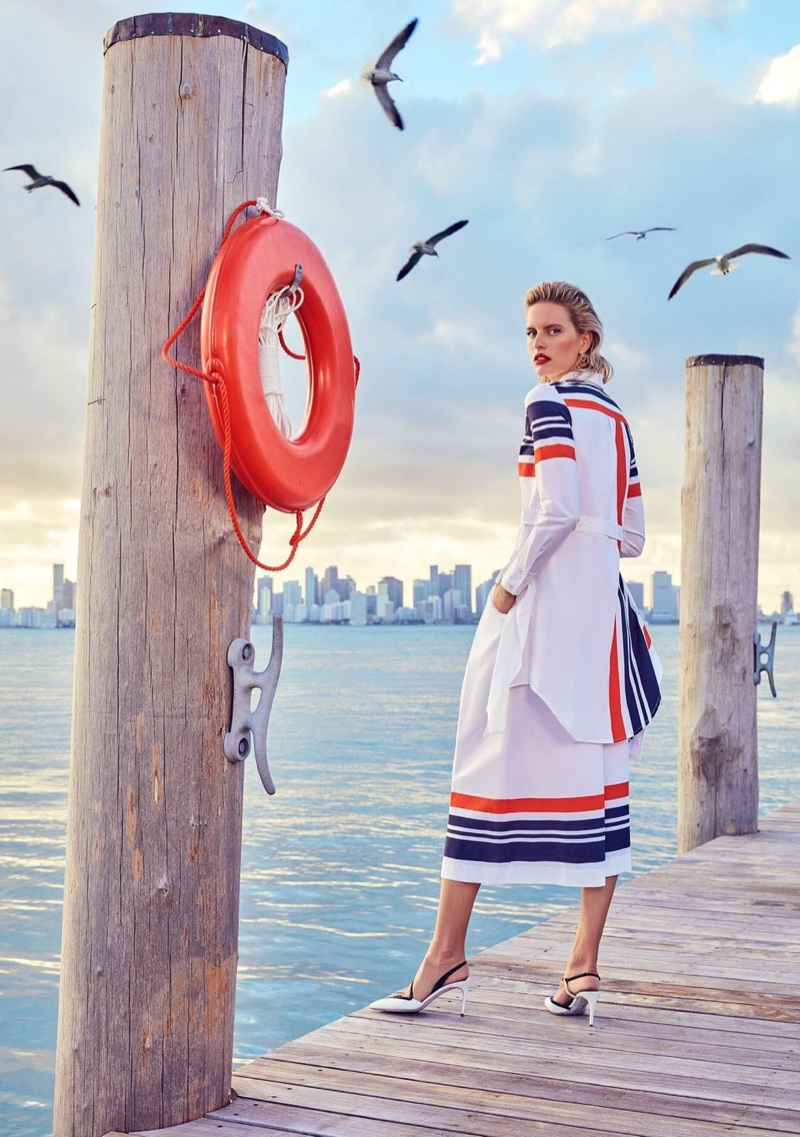 comnum(0) tbcount(0) tbcount(103)
Categories:
Other Brands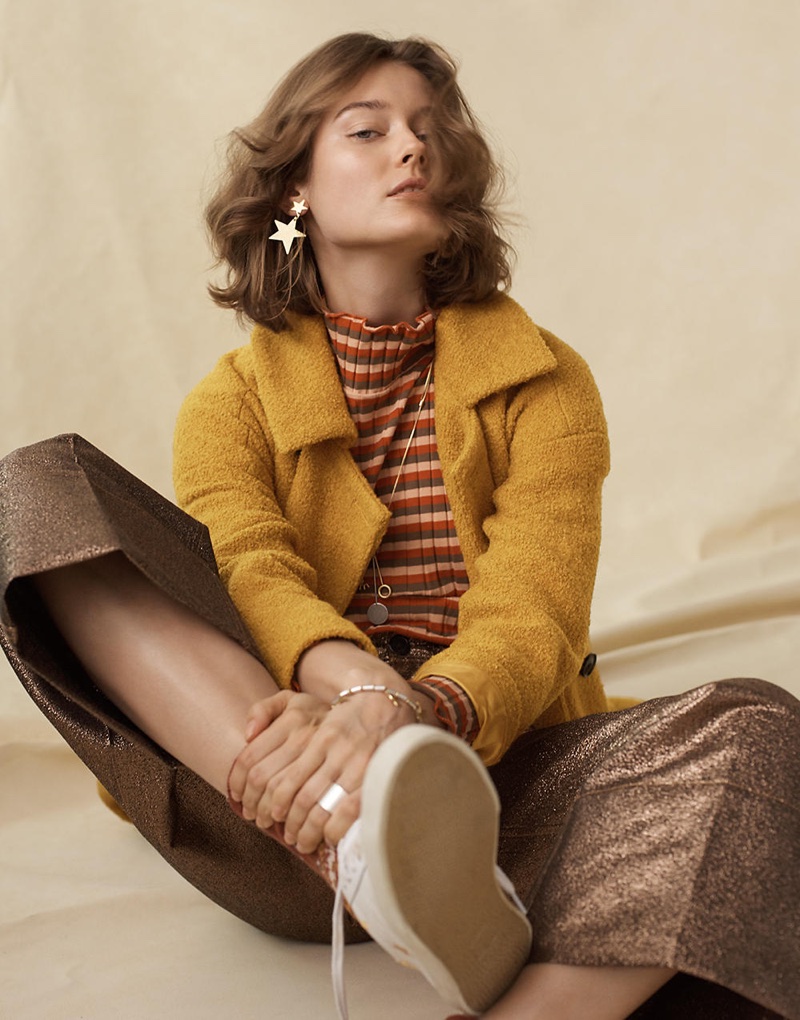 Madewell Bouclé Double-Breasted Coat, Ribbed Turtleneck Top in Stripe, Langford Wide-Leg Crop Pants in Metallic, Madewell x Veja Esplar Low Sneakers in Embroidered Stars and Star Statement Earrings
As the end-of-the-year approaches, Madewell offers up chic winter looks perfect for everyday wear. Model Jac Jagaciak poses in the new trend guide including colorful knits, cool parkas and printed dresses. The fashion shoot also pairs cross body bags with casual sneakers and statement earrings. Playful props such as lollipops, baguettes and curlers stand out in the lookbook.
Related: Winter Fashion | 8 Cold Weather Outfits from Madewell
MADEWELL 'LOOKS WE LOVE' WINTER 2018 LOOKBOOK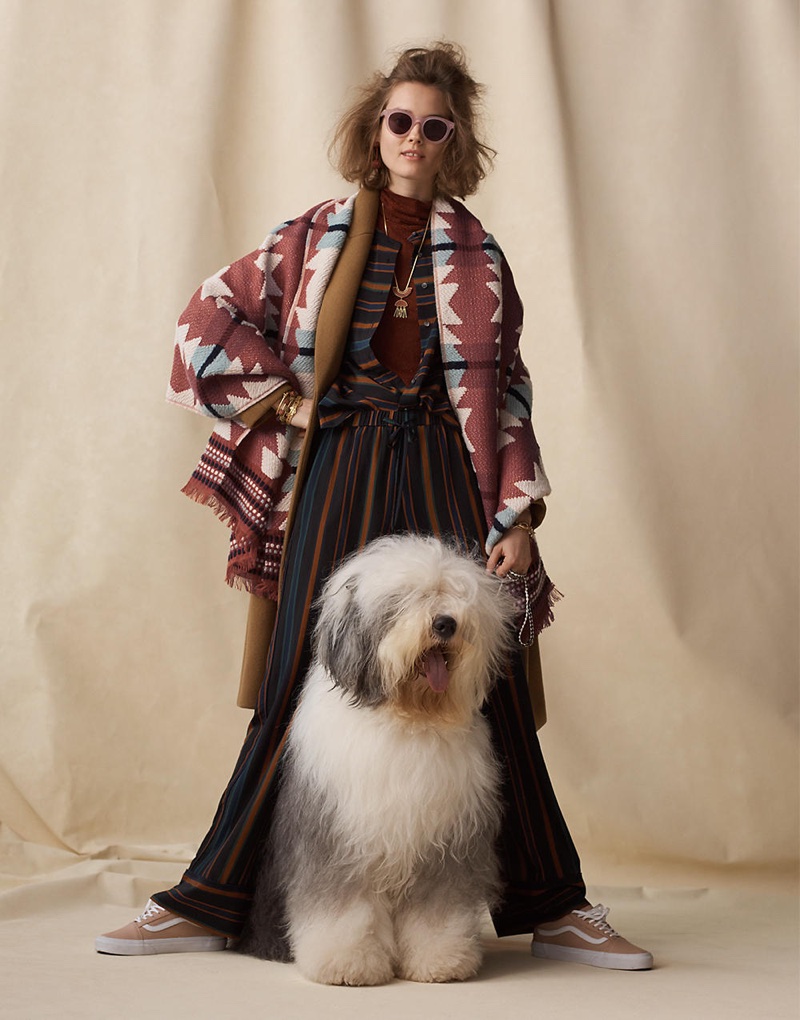 Madewell Atlas Cocoon Coat, Night Sparkle Turtleneck, Silk Clermont Stripe Shirt, Pajama Trousers in Clermont Stripe, Textured Carpet Scarf, Halliday Sunglasses and Vans Old Skool Lace-Up Sneakers in Pink Leather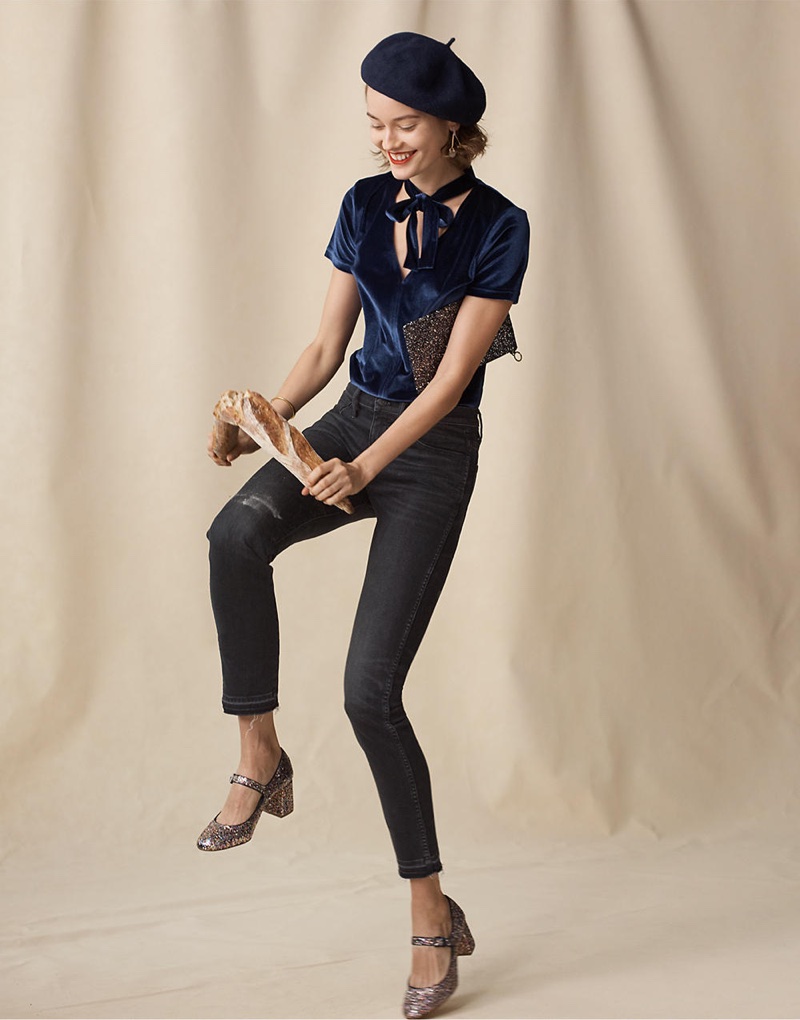 Madewell Velvet Tie-Neck Top, Slim Straight Jeans: Drop-Hem Edition, Brixton Audrey Beret, The Leather Pouch Wallet: Glitter Edition, The Zelda Mary Jane in Glitter and Bar-and-Chain Stud Earrings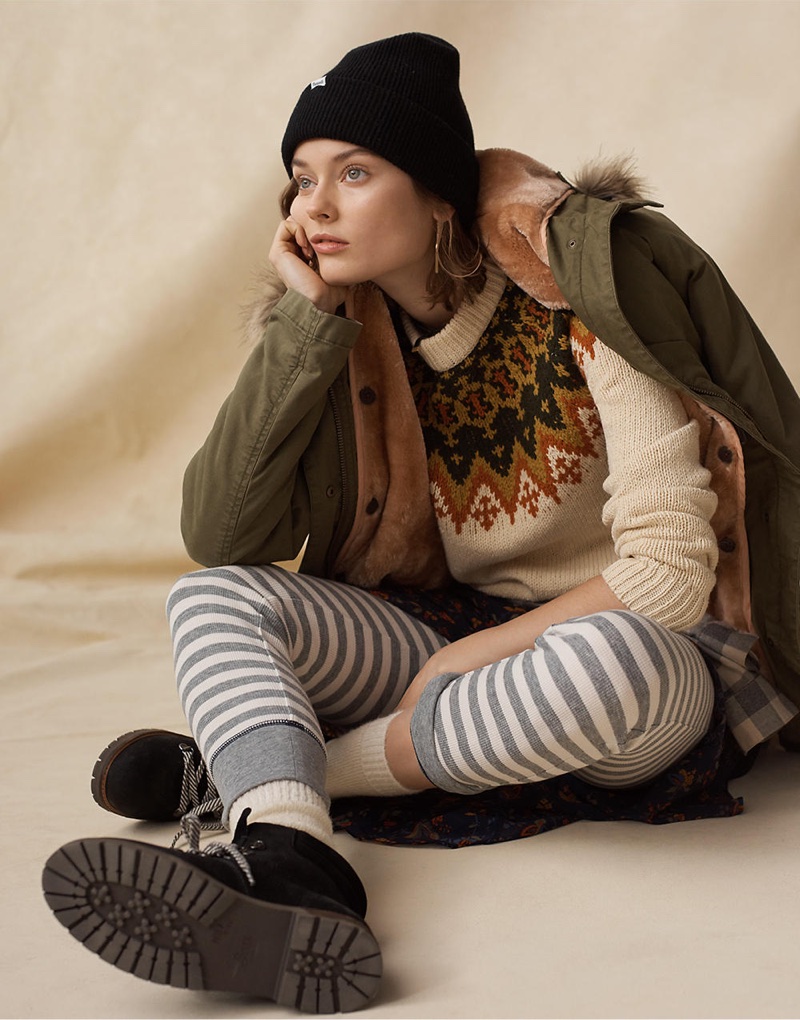 Madewell Bedford Convertible Parka, Fair Isle Pullover Sweater, Faux-Wrap Midi Skirt in Climbing Vine, Striped Pajama Leggings and Cuffed Cozy-Knit Beanie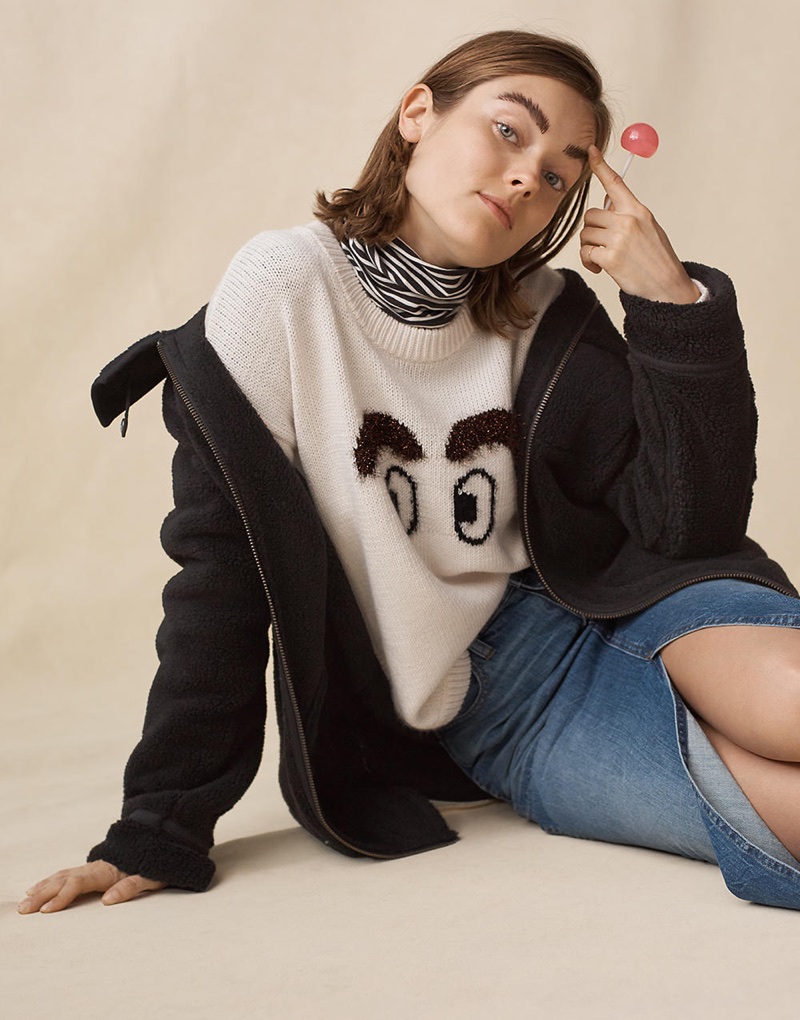 Madewell Sherpa City Grid Coat, High-Brow Pullover Sweater, Whisper Cotton Turtleneck in Kadler Stripe and Reconstructed Midi Jean Skirt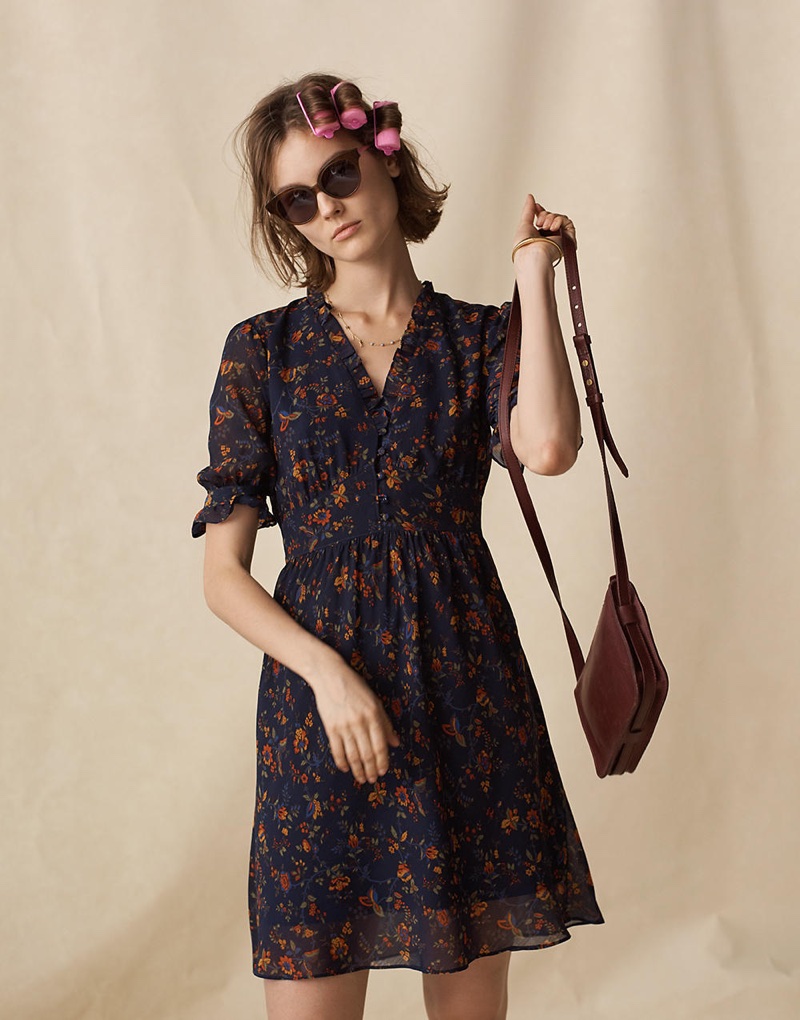 Madewell Freesia Dress in Climbing Vine, Athens Cat-Eye Sunglasses and The Simple Crossbody Bag
comnum(0) tbcount(0) tbcount(103)
Categories:
Other Brands
The Dionysus Bag is not a new creation, but it is currently one of Gucci's most favorite handbags in the fashion world. For the Cruise 2018 Collection, Gucci has modified the design of the Dionysus Bag and they made it so-eye-catching that we needed to let you know. Now take a closer look at the picture and tell us whether you can see the 'glam'. Introducing the Gucci GG Velvet Dionysus Bag.
The Design
The Dionysus Bag is a unique design with a catchy story. The bold tiger head closure is inspired by the Greek god Dionysus. The myth tells that this god have crossed the river Tigris on a tiger that was sent to him by Zeus. Dionysus was a god of fertility and wine; he would either bring joy and divine ecstasy or brutal and blind rage, thus mirroring the effect of the nature of wine.
The Dionysus for this season is crafted in GG motif, which is the signature GG quilting you see on this bag. But that's nothing new. The special thing about this season is the Velvet and the shine that make our eyes dazzle. The soft Velvet might be harder to maintain but it gives a pleasure feeling of luxury.
What's more? This bag comes with a medium-sized and bright sliding chain to help you sling it on your shoulder or wear it cross body. You can also change it from shoulder bag and top handle.
The Interior
Open the bag using the pin closure with side release. The interior is made with a pocket under the flap and a large main compartment. This bag is big enough to support your daily essentials and perhaps even more.
The Sizes And Prices
Measuring 25 x 13.5 x 7 (W x H x D) cm, the chain has 58 cm drop and it's priced at $2650 USD, €1980 euro, £1790 GBP, via Gucci boutiques.
More Colors And Images
The Gucci Medium GG Velvet Dionysus Hobo Bag
There is also a Hobo Bag version. Here are the details:
Gucci Medium GG Velvet Dionysus Hobo Bag
Size: 36 x 28 x 5.5 (W x H x D) cm
Prices: $1980 USD, €1590 euro, £1440 GBP
comnum(0) tbcount(0) tbcount(129)
Categories:
Other Brands
Givenchy Lace Panel T-Shirt Dress $1,008 (previously $1,680)
The t-shirt dress comes in black satin with scalloped lace trims in sheer paneling.
Sale season is fully underway, and when it comes to luxury fashion, Farfetch is the place to go. For its winter 2017 sale, the fashion retailer offers up to 50% off on designer styles. Choose from boots, jackets, dresses, bags, sweaters, jeans and much more. Top designer brands including Saint Laurent, Givenchy, Balenciaga and Versace join the major discounts. Discover our picks from the sale below, and shop more options at Farfetch.com.
Related: Nordstrom Designer Sale | Get Up to 40% Off on These Styles
FARFETCH WINTER 2017 SALE PICKS
Jimmy Choo 'Alexa 85' Pumps $740 (previously $925)
A classic pump gets an update with a navy satin upper and Swarovski crystal embellishments.
Balenciaga Black Gold 'Logo Bazar' Shopper M Bag $1,137 (previously $1,895)
Make a statement with this logo embellished leather shopper featuring gold accents.
Saint Laurent 'Lily 95' Boots $678 (previously $1,695)
These suede boots include glittering Swarovski crystal embellishments and an almond toe.
Versace Two Tone Puffer Jacket $1,513 (previously $3,025)
Take on sporty style in a navy and yellow puffer jacket with a ribbed hem.
comnum(0) tbcount(0) tbcount(138)
Categories:
Other Brands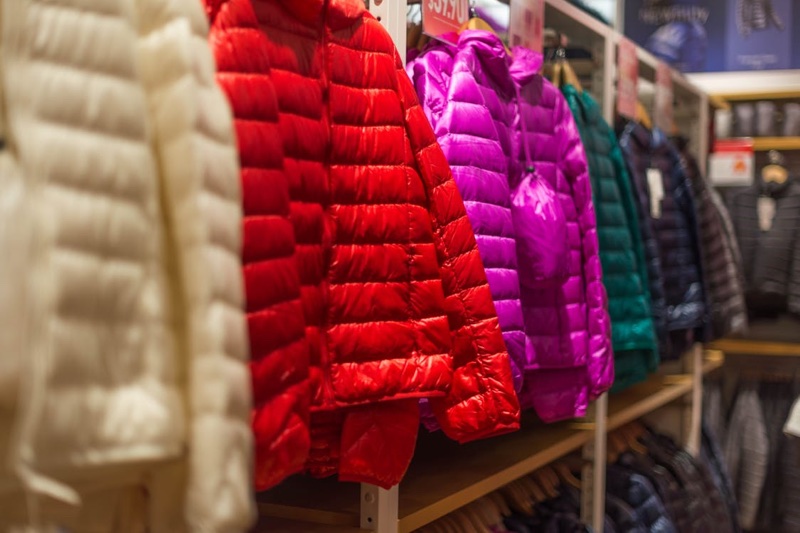 Photo: Pexels
Like just about every other type of industry, fashion has undergone a drastic transformation brought about the increasing digitalization of society. Many brands have struggledto make much sense of the new techniques of marketing their products and services, and, as a result, often rely on tried-and-true approaches to getting the word out. In most cases, this isn't nearly enough, as competitors who understand the capabilities of digital marketing are zipping right on past.
The disconnect between the beauty and glamour that many fashion brands hope to cultivate and the analytics-oriented bent of digital marketing presents a challenge to companies looking to market their products. This is especially true for established brands who are trying to compete with newer companies that might have more of a handle on the lean and mean approach to digital marketing.
If you're looking for assistance in this department, relying on a fashion digital marketing company with experience and expertise in modern marketing techniques and campaigns is the way to go. Here are some of the things that marketers need to consider when promoting fashion brands.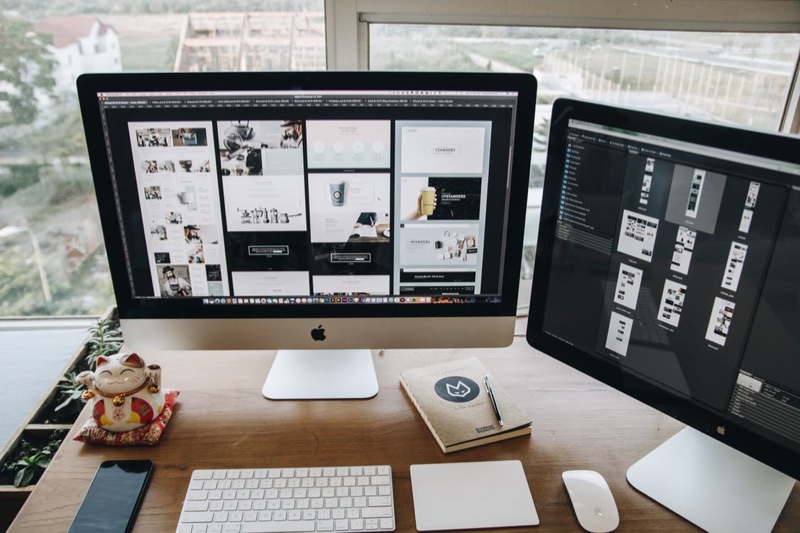 Photo: Pexels
THE MARGINALIZATION OF RETAIL
This is the most obvious capitulation to the modern world, and yet it's one that many fashion marketers are loathed to make. The fact is that retail is suffering at the hands of online shopping, as many consumers prefer the convenience and ease of buying products at home on a computer instead of going out to stores. If you are a fashion brand and haven't put everything you have on your website to promote and sell your products, you are putting yourself at a huge competitive disadvantage.
REPLACING THE SHOP EXPERIENCE
If you accept the fact that more consumers are going to be buying from the computer than from store shelves, you have to then try to replicate what was special about the store experience online. The companies who are able to do this will really be able to separate themselves, especially in the fashion world where imagery is so crucial. If you can somehow create a website that makes it feel to the customer like you are taking them by the hand and showing them all your best items, you will be doing a great service to your brand.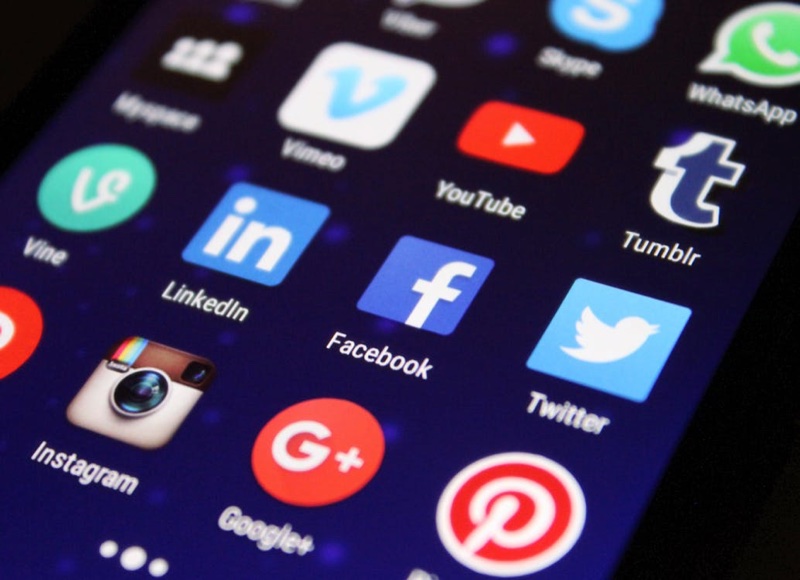 Photo: Pexels
PLATFORMS AND WE DON'T MEAN HEELS
Social media is a huge influence on those buying fashion products. What makes it difficult is that each and every day a hot new social media platform attracting users seems to arise. Your goal as a marketer is to craft a message that's tailored to each of these platforms while staying true to your fashion brand as a whole. It's a bit like juggling knives while roller-skating, but you have to make the effort in order to reach as many customers as possible.
It may seem like digital marketing only presents challenges for your fashion brand. Think of it instead as a brave new world filled with opportunities if you have the marketing savvy and ingenuity to take advantage of it.
Categories

New Posts

Hot Posts

Tag Cloud