Categories:
Other Brands
When it comes to fashion, trends come and go. From ancient times to now, the world of style and beauty has seen so many changes. Here, we take a look at some unusual footnotes fashion history. From designer rivalries to deadly trends and common misconceptions, discover seven crazy fashion facts below.
FLAPPERS DIDN'T WEAR FRINGE
When one thinks of style for the 1920's, a common go-to is the fringe dress. But that is not so according to Beverley Birks, an exhibition curator, who spoke to Racked in 2017."Fringe [was] not the most common thing you saw in the 1920's. That would be beadwork or embroidery," she reveals. As with many things, this can be tied back to Hollywood. Movies set in the 1920's but made in the 1950's took on modern interpretations of retro style. But nonetheless, the myth of flappers wearing fringe still persists to this day.
FOUNDATION WAS MADE WITH LEAD
Nowadays, consumers are more aware of toxic chemicals used in makeup products. But back in ancient times and up to the 19thcentury, lead-based powder was all the rage. Portraits of famous figures such as Queen Elizabeth I feature faces with pale, milky white skin. Many people used ceruse foundationwhich included white lead as the main ingredient to achieve this look.
Interestingly enough, Queen Elizabeth I used the foundation to cover scars which came from a bout of smallpox in her 20s. Lead poisoning can ultimately lead to death and takes years to take effect. Sufferers had a variety of symptoms such as insomnia, headaches, paralysis and ironically enough--skin blemishes.
COCO CHANEL AND ELSA SCHIAPARELLI HAD A BITTER FEUD
Today, Chanel is one of fashion's most famed names. But in the 1930's, designers Gabrielle "Coco" Chanel and Elsa Schiaparelli were bitter rivals. Schiaparelli was known for making fashion forward designs compared to her peers. "Of course they were rivals, privately damning each other with faint praise. It is also claimed that Chanel once succeeded in setting Schiaparelli on fire," Chanel and Schiaparelli biographers Rhonda K. Garelick and Meryle Secrest toldHarper's Bazaar.
Chanel once referred to Schiaparelli as "that Italian artist who is making clothes." After World War II, it was the house of Chanel which succeeded while Schiaparelli's business went bankrupt and she closed it in 1954. In 2013, the Schiaparelli brand was officially relaunched under the creative direction of Marco Zanini.
comnum(0) tbcount(0) tbcount(12)
Categories:
Christian Louboutin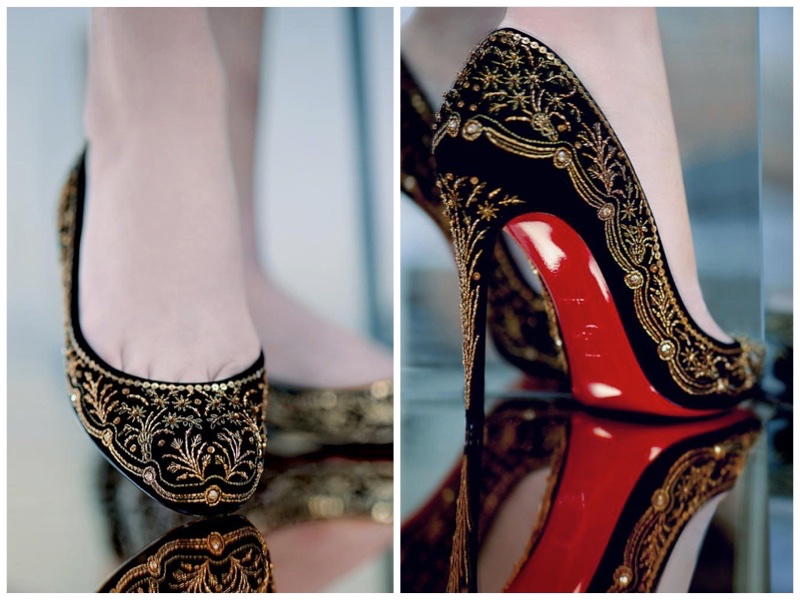 Christian Louboutin creates an exclusive capsule collection for Moda Operandi
Luxury shoe designer Christian Louboutin recently teamed up with Moda Operandi for an exclusive capsule shoe collection. Inspired by 18th century French court costumes, Louboutin created three embroidered footwear designs in gold or silver. Handmade, each shoe took 67 hours of work with at least six people. Made of suede, choose from a pump, mule or ballet flat.
CHRISTIAN LOUBOUTIN EMBROIDERED SHOE COLLECTION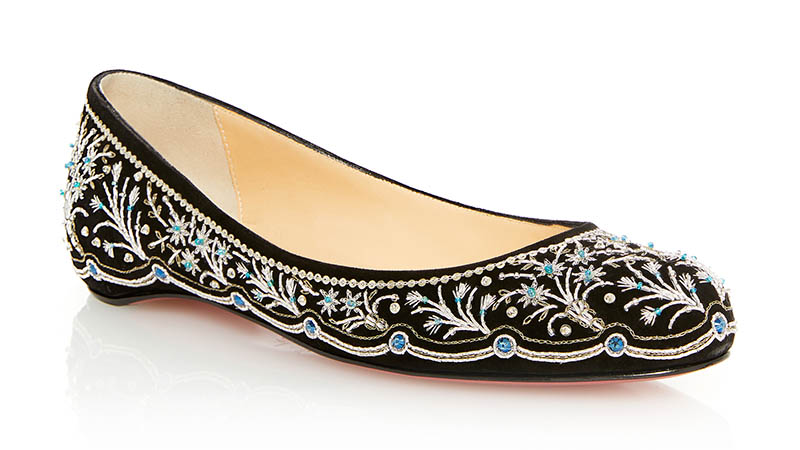 Christian Louboutin Embroidered Ballerina Flat in Silver $2,995
This limited-edition flat comes in suede with silver embroidery detail.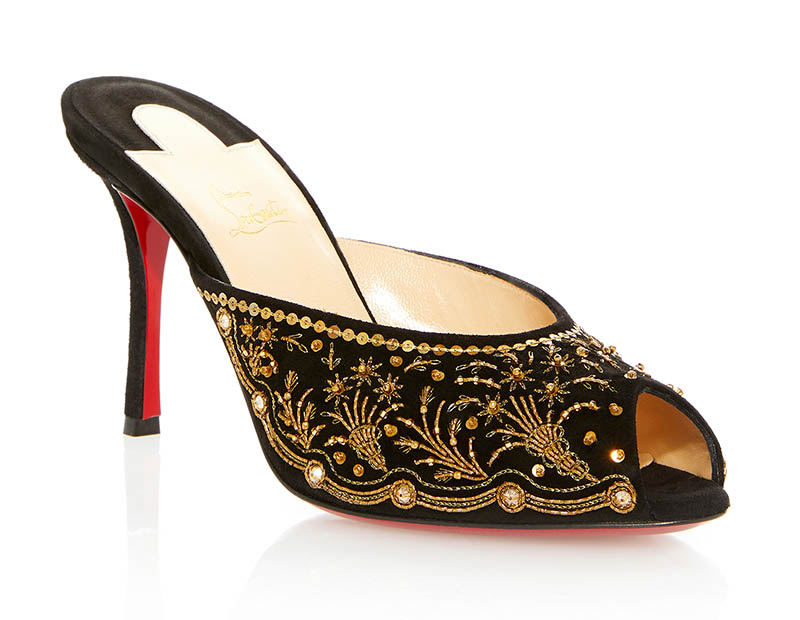 Christian Louboutin Embroidered Mule in Gold $2,770
A minimal mule silhouette features intricate, hand embroidered accents over suede.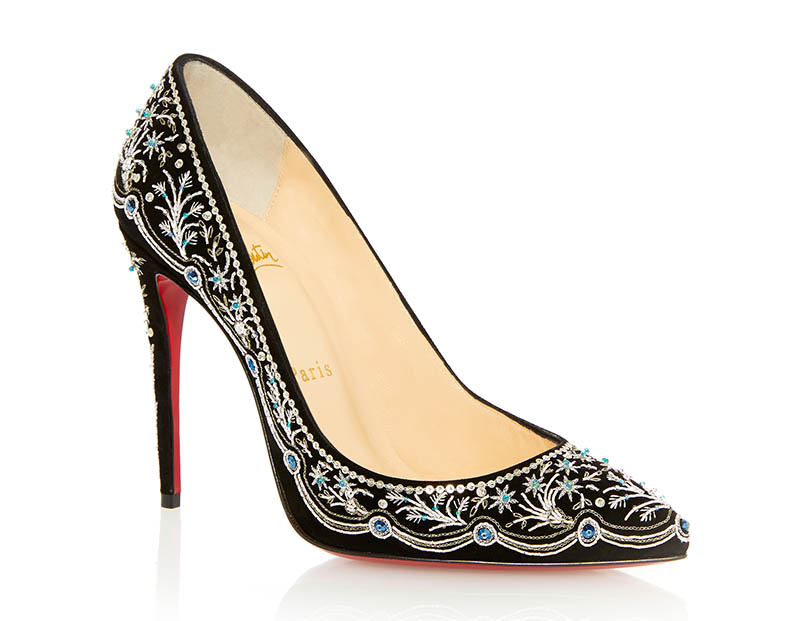 Christian Louboutin Embroidered Pigalle Pump in Silver $3,335
This gilded pump can also be customized with your initials on the heel.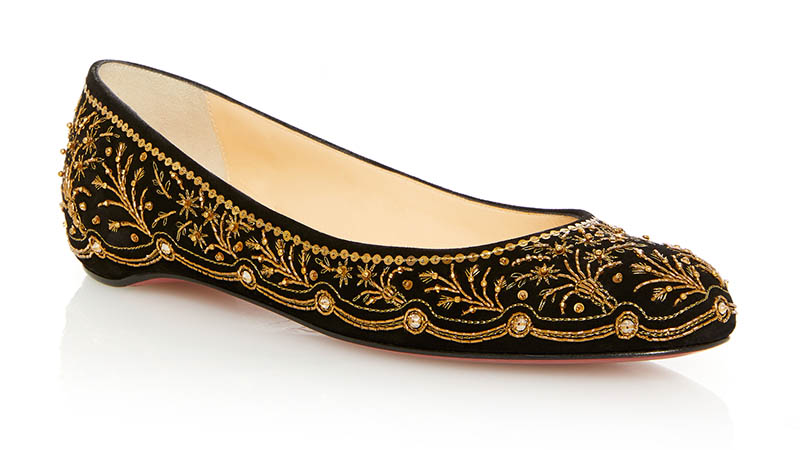 Christian Louboutin Embroidered Ballerina Flat in Gold $2,995
Channel your inner prima ballerina in a gilded pair of flats.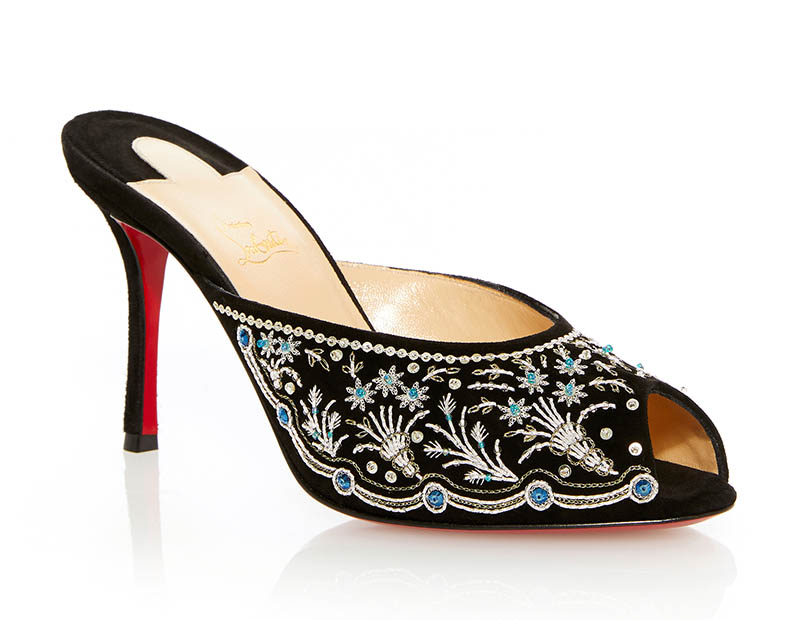 Christian Louboutin Embroidered Mule in Silver $2,770
Step out in style wearing a intricately embroidered pair of mules.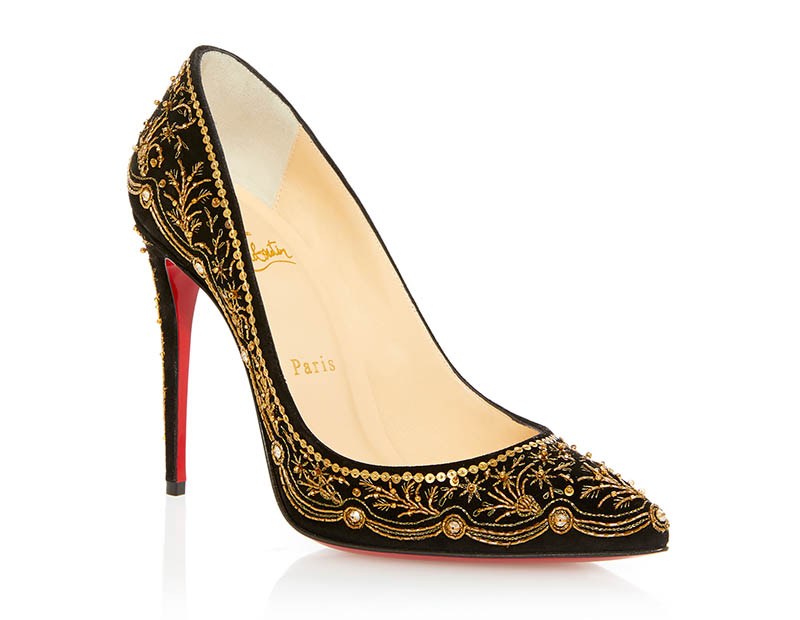 Christian Louboutin Embroidered Pigalle Pump in Gold $3,335
A suede pump features glittering embroidery over a minimalist silhouette.
comnum(0) tbcount(0) tbcount(50)
Categories:
Louis Vuitton
Is Lockme here to stay? We do think so because Louis Vuitton has just expanded the collection with the newest bucket bag. Just to summarize with what we mean by 'Collection', the Lockme now consist of a shoulder bag, backpack, cabas Bag and tote bag. It's also available in different styles and colors like perforated Monogram. There is also a Lockme Wallet for those that are interested.
The design
The Louis Vuitton Lockme Bucket Bag is crafted with the LV turn lock. The uniqueness about this bag is the extra shade that highlights the edges. For example, the color blue is featured with red around the edges. This red color is everywhere; from the keybell, to the shoulder strap and drawstring.
It's made with a long shoulder strap to carry on your shoulder or cross body. The strap can be shortened to match your comfort. The bottom part is braided and lined in red, which gives the overall look a twist.
The interior
Bucket bags are always roomy, so if you ever need a spacious shoulder bag then consider this style. The interior features 1 zipped pocket, 2 smartphone flat pockets and one large compartment for all your daily necessities.
Crafted from soft calfskin, measuring 9.6' x 10.6' x 5.9' inches, priced at $2990 USD, $3700 CAD, $24600 HKD, $3850 AUD, ¥351000 JPY, ¥22800 CNY via Louis Vuitton boutiques.
Tags: Louis Vuitton bag Lockme Bucket
comnum(0) tbcount(0) tbcount(39)
Categories:
Fashion
Love Moschino showcases rockabilly style for its fall-winter 2017 campaign
Love Moschino delivers retro vibes with the release of its fall-winter 2017 campaign. Photographer Giampaolo Sgura captures the black and white images starring models Giulia Maenza and Kristian Einla. The pair channel rockabilly style in the laid-back advertisements. Giulia embraces animal prints, stripes and oversized outerwear in the vintage-inspired images. For beauty, hairstylist Andrew Guida creates 1950's coifs with Jessica Nedza on makeup.
LOVE MOSCHINO FALL/WINTER 2017 CAMPAIGN
Giulia Maenza and Kristian Einla star in Love Moschino's fall-winter 2017 campaign
Giulia Maenza wears victory rolls in Love Moschino's fall-winter 2017 campaign
comnum(0) tbcount(0) tbcount(42)
Categories:
Other Brands
IMAGE: HERMÈS
Ladies, you know what this is, it is Hermès' signature fashion jewellery piece, the Collier de Chien (or CdC, for short), except this time the ones you see right here are the ones that come in the very precious exotic skins. You could say, the ones in croc and lizard skins are the finer, more elevated versions of the ones we typically see in leathers like Box and Epsom, and it's precisely for this reason that they are highly sought after, and valued by ladies (and some men) who love a good CdC.
Available in a wide array of colours, they come in 3 different hardware finishes, namely Gold (GHW), Palladium (PHW) and Rose Gold (RGHW) with an assortment of sizes that will suit most wrists.
For the ones in exotic croc, it comes in matte or polished versions in favourite colours like Noir and Rose, while for the lizard skins, aside from the solid colours, the ombré versions are really luxe. While pieces in exotic skins aren't as readily available as the ones in calfskin leather, checks have been done at the Hermès boutiques in Singapore and here are the pieces available and prices just for you.
There are the lizard skin pieces, including the ombre ones, and they are priced at SGD2050 each (there's one available in ombré/RGHW over at Takashimaya Shopping Centre), while the ones in exotic croc are priced at SGD2900. As for the ones in calfskin leather? SGD1700, which also means it is well worth the price to pay slightly more for the ones in exotics.
Tags: Hermes De Collier Chien Bracelets Exotics
comnum(0) tbcount(0) tbcount(37)
Categories:
Fashion
The zipper is a great accent to have on clothing and footwear. Not only is it utilitarian, but it also serves as a chic styling choice. The only thing you have to watch out for though is snagging a zipper on loose material or even your skin. And most of the time, the zipper is harmless, combining both aesthetics and functionality in its design.
If you are wearing a zipper, is it discreet, or does it make a statement? The zipper has had its place in the limelight in fashion weeks past, and now again we see it everywhere from London to New York and Paris. Its versatility is key in its usage. It's not just the zipper either that can take the main stage, look at the tiny zipper pulls that shape the fashion trends.
These zipper options were gleaned from Paris, London and Milan Fashion Weeks 17-18; In three categories, we find them: discreetly, boldly, and elsewhere.
Go Discreet:
Seen on the runways of the 17/18 shows, the delicate zippers were barely noticeable: molding form into firm shape; placed along silk; snugly hooked into the collar. Elegantly placed. Invisible. Paris Haute Couture Fashion Week Fall/Winter 17-18 has a variety of example, with Giorgio Armani Prive's catwalk collections standing out the most.
Go Bold:
Prominent too in the 17/18 shows were bold zips; black contrasts, metallic sheens. London Fashion Week displayed designs in the menswear shows where the zipper took on aesthetic roles instead of just functional. Notice how Mochiko Koshino imbued edge into aesthetic functionality by displaying zippered slits on oversized jackets. Liam Hodges' zippered legs show the potential for a bold, but casual look.
Paris Fashion Week Menswear SS18 had the zipper on display in some bold and adventurous moves. Take Alexander Macqueen that presented the zipper as though it were on a walk through history, pulling from its motorcycle roots. Facetasm also drew from trends past by adding zippers to double denim, with the zippers as seams, it seems. Don't miss Icosae's black zipper contrasts on white. It is once again a season for the zipper, but this time anywhere.
Go Elsewhere:
Jackets and bags are the norm. Try incorporating a zipper into the pants, the boots, or as statements across your tops. For instance, edgy zippers at Milan Men's Fashion Week SS18 were seen on cuffs. Motorcycle skirts are seen with multiple zippers, some crossing the entire skirt diagonally. For evening wear, go bold or go discreet, or even top-to-bottom zipper dresses. Don't forget the zipper scarf, worn for a casual look, or even a smarter look. What about a zip necklace? For the very brave among us, or the exhibitionists, there is also Vetements, who caused a stir with their 360 zipper fly!
A zipper is not just a tool for speedy closure. It's potential for statement, whichever way you choose to go, whether boldly or discreetly, aesthetically, functionally or both.
Take inspiration from fashion week if you will, or go truly rogue by investing in a sewing machine, some sewing lessons, and start adding them in yourself.
Categories

New Posts

Hot Posts

Tag Cloud